Although many businesses rely on compressors for the smooth functioning of their system, they often miss checking on the health of the compressors! But, this shouldn't be the case! The whole refrigeration system is at risk if something goes wrong with the compressor. Regardless of the industry size, industry type, compressors play an important part that one should focus on, as compressors breakdown can result in losing time, a costly new purchase, and increased time to maintain the entire system that depends on it.
You can always refurbish your compressors, but for that, you should be well-acquainted with the health of it.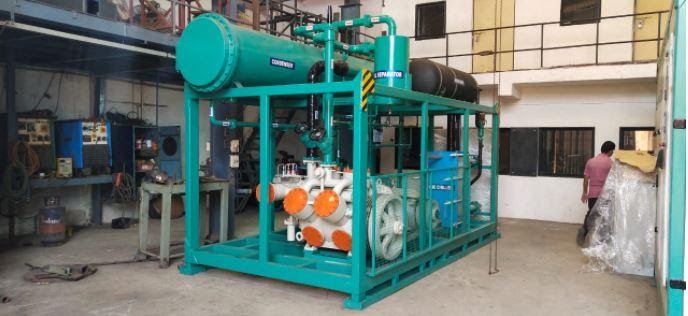 To help you keep your compressor in top shape, we have put together a list of factors that you should add to your regular maintenance schedule. Read them below.

1. Motor Lubrication:
If your motor is not in shape, then the entire synchronization and working stops! You will be left with nothing to drive your compressor at full speed. For this, you should add these following things to your maintenance schedule –
Check and maintain the proper lubrication of the motor. See if the bearings are properly lubricated.
Look at the alignment of the compressor's motor with the other compressor parts of industrial refrigeration. This is because unfitting alignment can lead to bearing failure and vibration issues.

2. Pressure Drop:
It is important to look at the pressure drop of the compressor. If the pressure goes low, then the flow of air also drops, which leads to premature failure, operating alarms, and in the worst case the shutdown of the compressor entirely! This will lead to costly repair of the compressor parts. So, if you notice the change in pressure, you should get your compressor refurbished.
Jyoti Engineering Combine specializes in perfect refurbished compressor parts service that too in adherence to the OEM guidelines.

3. Bolts in Check:
Add this to your maintenance schedule too! For once a year, check the bolts and package bolts as preventions. Loose bolts can cause hazard and terrible vibration issues. At Jyoti Engineering Compressor, we receive a lot of compressors with these issues and our team of skilled workmen, reach out for the root cause, analyze it, and accordingly change the bolts and bearing for the smooth functioning of the compressor parts.
Keep your Compressor In Good Health Checking on the Few More Points –
Ammonia and Freon Based Compressor – Make sure that the ammonia and freon based compressors are as per the OEM guidelines.
Check for Faulty Vibrations – Look closely into your compressor and look out for any faulty vibration that can affect the frequencies and the value of parts. High vibration equals fast refurbishment.
Check for Unusual Changes – Check whether your compressor is getting unusually hot or operating at a temperature which increases vibration or loosens the bolts and bearings.
This was all about how you can keep your compressor irrespective of the industry type and usage, in fine health. Choose the best partner for your refrigeration system or any other compressor usage, which is, Jyoti Engineering Combine.
With us, you get prime-quality refurbish compressor service, and promising quality compressors and compressor parts.
We are an active leader in zero-defect compressor parts and reconditioned compressor parts!
We have over 35+ years of experience in deploying quality products to our clients. We have different types of compressors to match your requirements.
For more information, contact us.